Chimneys, often regarded as simple vertical structures, are a critical component in the engineering landscape. They play a multifaceted role in both residential and industrial settings, impacting efficiency, safety, and aesthetics. At WeStruct, we're dedicated to unraveling the intricacies of chimney design in engineering. In this comprehensive guide, we'll delve into the principles, considerations, and best practices that underscore this crucial aspect of construction.
The Essence of Chimney Design
Chimney design in engineering extends far beyond aesthetics. It's a discipline that combines scientific principles with creative design to achieve optimal outcomes. Here are some key facets of chimney design:
1. Combustion Efficiency:
Efficient chimney design is the cornerstone of successful combustion processes. A well-designed chimney ensures that the byproducts of combustion are safely expelled from the structure while minimizing energy loss.
2. Draft Control:
A proper draft is crucial to ensure a consistent upward flow of air, preventing dangerous backdrafts and ensuring that combustion gases are vented safely.
3. Material Selection:
The choice of materials is vital in chimney design. Engineers carefully select materials based on their resistance to high temperatures, durability, and environmental factors. Materials like stainless steel, brick, and concrete are commonly employed.
Types of Chimneys in Engineering
Chimney design varies depending on its application. At WeStruct, we recognize two primary types:
1. Industrial Stacks:
Industrial stacks, also known as flue gas stacks, are towering structures found in industrial settings. Engineering considerations here involve managing gas flow, emissions, and structural stability.
2. Residential Chimneys:
Residential chimneys are found in homes and serve various functions, including venting fireplaces, wood-burning stoves, or heating appliances. Here, the focus is on efficient smoke removal, draft control, and insulation to prevent heat loss.
Aesthetic and Architectural Harmony
In addition to efficiency and safety, the aesthetics of a chimney often require close collaboration between engineers and architects. WeStruct acknowledges the importance of this partnership:
1. Proportion and Balance:
Chimney height and proportion must blend seamlessly with the building's overall design to maintain visual balance and harmony.
2. Architectural Styles:
Chimneys come in various styles, from traditional brick designs to sleek and modern options. Choosing a style that aligns with the building's design is crucial.
3. Ornamental Elements:
The addition of decorative elements, such as corbelling, masonry patterns, or cap designs, can enhance the chimney's character while adhering to engineering principles.
Maintenance and Safety
Chimney maintenance is an essential part of ensuring safety and functionality. Regular inspections and cleaning are necessary to prevent blockages, obstructions, and fire hazards.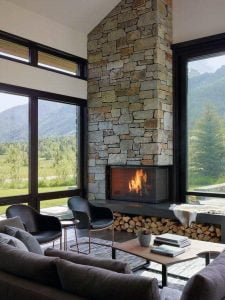 Conclusion
Chimney design in engineering is a multifaceted field that harmonizes efficiency, safety, and aesthetics. At WeStruct, we appreciate the delicate balance that engineers strike in creating these architectural elements that contribute to a building's warmth, comfort, and safety.
In both industrial and residential contexts, a well-engineered chimney stands as a testament to the fusion of engineering brilliance and architectural appeal. It is a vital component of any well-structured edifice, fulfilling its role with both precision and charm. If you seek guidance and excellence in chimney design, you'll find it here at WeStruct.