In today's world, the need for sustainable urban drainage systems (SUDS) has never been more apparent. As urbanization continues to reshape our landscapes, the impact on water management becomes a central concern. At WeStruct, we're committed to exploring the dynamic world of SUDS design in engineering. In this blog post, we'll delve into the principles, benefits, and best practices that define SUDS and their role in building a more sustainable future.
The Significance of SUDS Design
Sustainable Urban Drainage Systems (SUDS) have emerged as a pioneering approach in urban planning and engineering. The concept focuses on managing stormwater in a more environmentally friendly and efficient manner. SUDS design aims to mimic natural drainage processes while integrating them into urban landscapes.
Key Components of SUDS Design
Permeable Surfaces: One of the central elements of SUDS is the use of permeable surfaces, such as permeable pavements and green roofs, which allow rainwater to infiltrate the ground naturally.
Storage Systems: SUDS incorporate storage systems like detention basins, underground tanks, and ponds to capture and store excess stormwater during heavy rainfall, gradually releasing it to prevent flooding.
Bioretention Areas: These landscaped features, also known as rain gardens, filter stormwater through vegetation and engineered soils, removing pollutants and recharging groundwater.
Infiltration Devices: Infiltration trenches and swales are employed to direct and treat stormwater, promoting groundwater recharge and reducing runoff.
Benefits of SUDS Design
SUDS design in engineering offers numerous advantages:
1. Flood Prevention: SUDS reduce the risk of flooding by managing stormwater more effectively, minimizing the burden on conventional drainage systems.
2. Water Quality Improvement: By filtering and treating stormwater, SUDS significantly enhance water quality, reducing pollutants and protecting ecosystems.
3. Enhanced Urban Aesthetics: SUDS incorporate natural elements like vegetation and open water, improving the visual appeal of urban areas.
4. Water Resource Management: The system conserves and reuses water, contributing to sustainable water resource management.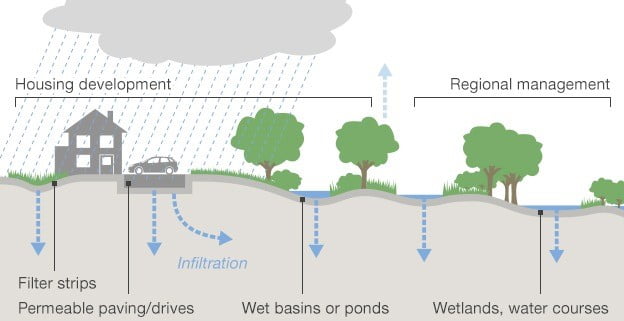 Best Practices in SUDS Design
Designing effective SUDS involves careful planning and execution:
1. Site Assessment: A thorough site assessment is critical to understand soil conditions, rainfall patterns, and potential risks.
2. Integrated Design: SUDS work best when integrated into the urban fabric, taking into account existing infrastructure and urban planning.
3. Maintenance Plans: Regular maintenance and inspection are vital to ensure the continued functionality of SUDS components.
4. Community Engagement: Public awareness and community participation can enhance the success and acceptance of SUDS projects.
Conclusion
SUDS design in engineering is a forward-thinking approach that not only addresses urban flooding but also contributes to improved water quality and sustainable urban development. At WeStruct, we recognize the importance of integrating SUDS into modern infrastructure, preserving the environment, and ensuring a brighter, more sustainable future for our urban spaces.
By embracing SUDS, we can harmonize urbanization with nature, and pave the way for more resilient, eco-friendly, and aesthetically pleasing cities. The future is SUDS, and it looks promising.